Office Manager
Destiny
In 2016 after completing dental assisting school as an Expanded Duty Dental Assistant and an internship at our office, Destiny accepted a full-time position as an orthodontic assistant. In October 2021, she transitioned to Treatment Coordinator, where she and Dr. Davis worked together to deliver the best treatment options and help achieve the best smile for all new patients. During her time as Treatment Coordinator many beautiful smiles were transformed and memories were made.
Destiny then began to show interest in how Davis Orthodontics operated internally as a business. In April of 2023, the opportunity came to make another transition, this time into the role of Office Manager for both locations! Destiny loves spending quality time with her husband Justin, and their two beautiful children, Levi and Tatum Reese. They enjoy what all the Midlands have to offer!
Treatment Coordinator
Ida
Ida has been with our practice since the Summer of 2021. She has enjoyed her entire dental career specifically in orthodontics! Ida has shared her time in orthodontics being an orthodontic assistant and as a treatment coordinator. She has always been fascinated with teeth and always knew that she would have a career in the field. She fell in love with orthodontics and hasn't looked back. She is currently enjoying her role as Treatment Coordinator here in the office and enjoys having some of the first interactions with patients and their families! Ida loves that feeling of family that is developed between patients, parents, and all of us who work in the office.
Ida is married to her husband Drew and together they have a very busy and sassy daughter, Kinley. They currently reside close to Ida's hometown Leesville, SC and enjoy living the "country life" that she is so accustomed to. Ida loves to travel, cook, and try new things! Catch Ida in the office sharing a "punny" joke and laughing and smiling with all of the patients.
Office Concierge
Cindi
Cindi has been a dental assistant for 7 years and has experience in many different roles within the orthodontic office as well as pediatric dentistry. At Davis Orthodontics she has a dual role of  being an orthodontic assistant as well as a scheduling coordinator.  She loves orthodontics because she loves watching the confidence when smiles have been transformed and just loves interacting with people in general.
Cindi loves spending time with her husband Gary and son Chase.  They enjoy remodeling and designing homes together as well as just being outside.  You can usually find them grilling , fishing, or exploring old country roads on a nice sunny day.  They are big animal lovers and have a dog named Luna.
SCHEDULING COORDINATOR
JulieAnna
Our Scheduling Coordinator, JulieAnna, started with us in October 2021.  JulieAnna attended USC where she obtained a BA in Psychology.  Her favorite part of working at Davis Orthodontics is seeing the wonderful smiles of our patients and learning more about them.
Outside of work, JulieAnna loves to spend time with her Orangetheory Fitness crew at 5 AM and running 5K's on the weekends.  She also loves spending time relaxing and playing golf in beautiful Edisto, SC.
PUBLIC RELATIONS COORDINATOR
Chapin
Yes, Chapin is her name but she's not from there! Chapin was born and raised in Richmond, VA. Chapin attended Furman University in Greenville, SC where she obtained a BS in biology and fell in love with South Carolina. Chapin joined the Davis Orthodontics team in December of 2020 and is our office's Public Relations Coordinator aka the Davis Orthodontics Ambassador of Buzz. She loves to share with others why our office is awesome and is the woman behind all of our fun social media posts, TikToks, contests, and events. She also spends part of her time at our front desk and loves assisting our patients in any way she can.
In her free time she likes to spend time with her husband Matt and two rescue dogs- An Australian shepherd named Quill and a standard poodle called Sylvie. She also takes care of her 60,000+ bees. Chapin loves wildlife and the environment, and beekeeping is just one more way she indulges her passion for the natural world.
ORTHODONTIC ASSISTANT
Crystal
In 2019, Crystal joined our team as an orthodontic assistant, but she has been working in this field for more than 15 years! She was drawn to the way that orthodontic treatments move teeth to transform a smile. Her favorite part of being a member of the Davis Orthodontics family is seeing patients really smile for the first time.
Outside of work, Crystal enjoys singing Barbershop in The Heart of Columbia Chorus and also sings in a quartet. She has a reputation around our office of having the best and most fun earrings- be sure to check out what she is wearing at your next appointment.  She also loves to collect Christmas ornaments from all the places that she has visited.
Orthodontic Assistant
Devon
Devon has been a Dental Assistant for 7 years and joined our team September 1st, 2020. Previous to joining the Davis Orthodontics team, Devon was a pediatric Dental Assistant and to this day she loves working with our younger patients. She lives in a rural farm town called Fairview, South Carolina and is married to her husband Brandon. Together they have two beautiful daughters, Paisley Caroline and Porter Grace.
Devon and her husband are advocates for agriculture and in their free time enjoy being a part of the Lexington County Young Farmers and Ranchers and The Farm Bureau. Additionally they own and operate a local deer/livestock processing facility called "Crossroads Processing". Devon also LOVES to sing. Whenever you are in the office you are sure to hear her sing along with the radio or hum a tune of her own. Devon's favorite part of being an orthodontic assistant is getting to see the patient's face when they finally get to see their smile transformed when the braces come off!
ORTHODONTIC ASSISTANT
Courtney
Courtney grew up in Georgia, but went to school for dental assisting all the way across the country in Arizona. After four years as a dental assistant she realized her true interest was in orthodontics. She joined the Davis Orthodontics family in October 2021, but it feels like she has always been a part of our team.
When Courtney isn't busy caring for our patients, she likes to spend quality time with her husband, Brent, and her two fur children, Koda and Willow. She also enjoys reading and traveling. Her favorite places that she has visited have been Maine and Hawaii- so much so that she lived on O'ahu for two years!
Orthodontic Assistant
Hannah
Hannah is new to the orthodontic world. She recently graduated Orthodontic Assisting School in December of 2022 and moved here from North Carolina. She is beyond excited to begin transforming smiles and getting to know all the lovely patients at Davis Orthodontics. One thing she loves most about orthodontics is watching others grow confidence from their new smile!
Outside of work, Hannah loves to cook new recipes. One of her favorite recipes is homemade pasta salad. She is also a die hard Tarheels fan and loves watching North Carolina basketball games! Some other things she enjoys are country music, working out, watching sunsets and shopping on Amazon.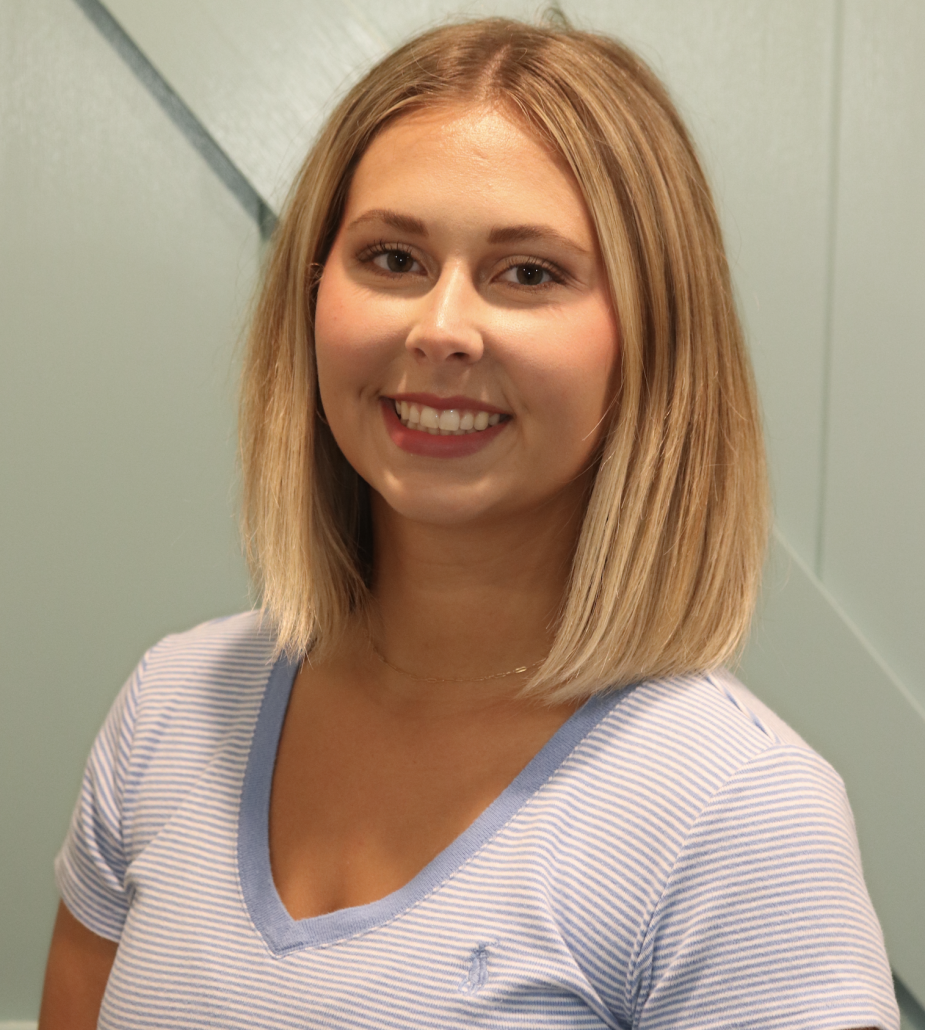 Orthodontic Assistant
Emily
Ever since Emily was a little girl, she loved going to the dentist and dreamed of working in the dental field. That dream came true when Emily graduated from dental assisting school in 2020 and then became an orthodontic assistant in July of 2021. What does she love most about orthodontics? It's being part of the transformation of someone's smile.
Outside of work, Emily likes to spend time with her boyfriend Dakota and their two golden retrievers Ollie and Ellie. She also enjoys reading, cooking, traveling, and making homemade pickles. She looks forward to sharing a little of her Kentucky roots along with her favorite meal of her Nana's soup beans and cornbread with all of us here in South Carolina.