DAVIS ORTHODONTICS CAN HELP YOU DECIDE WHICH METHOD IS BEST FOR STRAIGHTENING YOUR SMILE!
Braces are one of the most effective ways to improve the alignment of your teeth. Straight teeth look better, feel better, and are easier to care for. So which type of braces are right for you? The type of braces that will be best for you will depend on a few things. At Davis Orthodontics, we will take into account the severity of your dental issues, your age, certain time constraints, and other key factors before helping you decide which dental braces are ideal for your situation.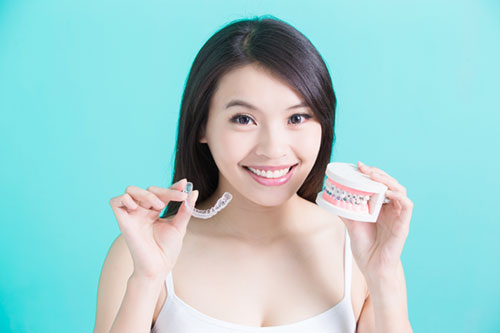 There are many impressive dental alignment options currently available. Braces can be used to gradually help your teeth align over a designated time period. Below, we will discuss three popular types of braces: The Invisalign® dental alignment system, traditional metal braces, and ceramic braces.
INVISALIGN® – REMOVABLE CLEAR PLASTIC ALIGNERS
Invisalign® aligners, also known as clear-aligner-treatment, are a great option for anyone with minor dental alignment issues. Invisalign aligners are custom-made clear plastic orthodontic devices that are similar to retainers or mouthguards. The difference between retainers/mouthguards and Invisalign mouthpieces are in their purpose and functionality. While a retainer holds your teeth in a certain position, Invisalign® slowly helps guide your teeth into a better position over about a year.
So how long does Invisalign take? This will depend on the severity of your dental issues. The Invisalign® System can take anywhere from 36 to 60 weeks. You'll likely switch out your aligners every two weeks, gradually helping your teeth shift into the right position. This means you will use anywhere from 18 to 30 different aligners from your own custom-made system on average.
Invisalign aligners are nice because they can be removed when you eat. They also make it easier to clean your teeth and prevent plaque and staining.
These aligners are extremely effective for minor alignment issues. They are also often more comfortable than other kinds of braces. However, an Invisalign® System won't work for everyone. Your orthodontist can let you know if Invisalign is right for your teeth.
TRADITIONAL METAL BRACES – A HIGHLY EFFECTIVE OPTION
Traditional metal braces are a time tested orthodontic tool that straightens your teeth using wires. They can be used to great effect even on severely misaligned teeth. Metal braces are positioned on your teeth and are adjusted over time until the desired dental positioning is achieved. Metal braces can take anywhere from a few months to a few years to straighten your smile. Your unique dental situation will determine how long you will need to wear metal braces.
While you may be familiar with the metal braces of the past, today's metal braces are more comfortable and advanced than ever before. For example, heat-activated archwire braces are now available. These braces work quickly and efficiently, using the heat in your mouth to help your teeth shift more comfortably and at a faster rate.
CERAMIC BRACES – A SIMPLIFIED AND SUBTLE ROUTE
Ceramic braces are very much like metal braces in many ways. They perform the same function, to slowly help your teeth align with time. However, ceramic braces differ in their look. They are made of a ceramic material that better matches the color of teeth. This makes them a great option for adults or teenagers who would otherwise feel embarrassed about the way metal braces look.
Ceramic braces are an effective option that works well for most people with teeth that aren't as straight as they would like. However, they do tend to be more expensive than metal braces and can become stained if not cared for properly.
LET US HELP YOU ACHIEVE THE SMILE OF YOUR DREAMS!
Your orthodontist will be able to tell you for sure which kinds of dental braces are best for your teeth. That's what we are here for, after all! To find out what you can do to straighten your smile, please feel free to call us today! The staff here at Davis Orthodontics can answer all of your questions and help you find braces that will be best for your unique situation.
https://dobraces.com/wp-content/uploads/2023/07/davisLogo2.png
0
0
Dr. Ed Davis
https://dobraces.com/wp-content/uploads/2023/07/davisLogo2.png
Dr. Ed Davis
2021-06-26 22:06:56
2022-12-26 22:10:01
Which type of braces are right for me?